DAIRY SITUATIONER 2001 ( Facts & Figures )
IMPORTS
Our dairy import bill amounted to US$448.05 million increasing by 11% from last year's bill of US$402.12 million. In terms of unit import cost, it translates to an average of Php13.16 per liter from Php9.33 per liter.
With the rise in prices of imported dairy products, major players of the industry - the importer-processors, repackers/traders, etc. try to cope by importing lesser volume. This year, only 1.74 million MT of milk and dairy products have been imported, which was 8.87% lower than as of 2000 volume of 1.90 million MT.
Milk and cream comprised the biggest bulk of importations, amounting to 1.60 million MT valued at US$399.18 million.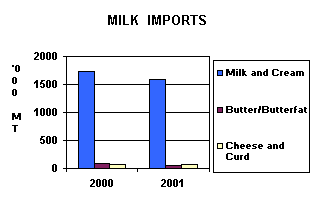 Powdered milk contribution was 78 percent where skim milk shared 43 percent, whole milk powder, 21 percent and whey powder at 14 percent. In this regard, powdered milk and by-products comprised the biggest slice in the market for milk and dairy products. Likewise, milk and cream importation valued at US$399 million ranked number two in the top ten agricultural imports of the country, next to wheat and meslin.

Over 80 percent of our milk supply came from milk exporting countries like Australia, New Zealand, USA, and Netherlands. Forty one (41) other exporting countries shared the remaining 20 percent.

Total duty payments for milk imports amounted to US$14.61 million or approximately Php745 million.