DAIRY SITUATIONER 2001 ( Facts & Figures )
LOCAL PRODUCTION
Barely 0.21% of the total livestock population (carabao, cattle, goats only) of 8.92 million was reared for dairy. As of 1 January 2001, the Philippines has an estimated dairy herd of 18,810 animals.
Of the total dairy herd, cattle share is 48% or 9,070 heads of which 3,990 are dams. Population of dairy carabaos reached 9,170 heads of which 4,260 are dams. On the other hand, of the 570 dairy goats, 350 are does. This small number of dairy animals (dams/does) translates to a meager level of local milk production which was quantified at less than 1% of milk consumed by Filipinos.
The 2001 production of the dairy farming sector amounted to 10.80 thousand metric tons of milk, which was 6.0 % higher than the previous year's output.
The increase was due to the 7.37% rise in the number of dairy animals (dams and does) wherein cattle head count posted 19.10 percent higher compared to that of 2000.
According to the Bureau of Agricultural Statistics, of the total milk production, 48 percent came from dairy cooperatives and the remaining 52 percent came from other farms such as individual dairy farms( 33%), stock farms/institutional farms (7%) and commercial farms (12%).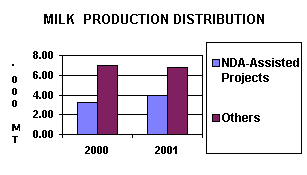 By animal source, cow's milk accounted for 67 percent (7.21 million liters) while carabao's milk at 32 percent (3.52 million liters) and goat's milk was pegged at 1% (0.07 million liters).
The local dairy sector grossed Php148.82 million, which was 6.39% higher than the value of Php139.88 million generated over last year.
This rise in value generated may be attributed to increased volume of milk production and higher farm gate prices from Php13.70 per liter to Php13.78 per liter.
On the overall, the dairy sector production value (at current prices) contributed 0.02% of total agricultural value of P621.39 billion and 0.14% of the livestock sector valued at P106.40billion.